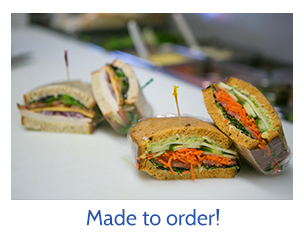 Stop in for lunch to try our variety of gourmet salads and sandwiches made to order. Build your own gourmet sandwich on our delicious freshly baked breads. Choose from Sun-Dried Tomato, Honey Wheat, Sourdough or Country White. Top your sandwich with our assortment of meats, cheeses, vine-ripe tomatoes, mixed greens, mayonnaise or a variety of mustards. Also, choose from our locally famous specialty sandwiches that include our Homemade Chicken Salad, Albacore Tuna Salad, Healthy Vegetarian and Nut Crunch Banana & Strawberry Sandwich.
Enjoy your half or whole sandwich with our freshly made gourmet Pasta Salad, Chicken Salad, Albacore Tuna Salad or Fresh Fruit Salad. We also offer convenient boxed lunches that give you a taste of everything including grapes, strawberries, a gourmet salad, a half sandwich and a rich truffle for dessert. Plus, add any of our artisan kettle chips, freshly brewed iced tea, drinks from our fridge or any of our mouthwatering baked goods to your order to satisfy your sweet tooth. Enjoy any of our gourmet lunches on the go or at the bakery on our tables and chairs outside.
Hungry? Take a look at our menu and call in an order.